2023 Social Media Designing Tips You Cannot Miss!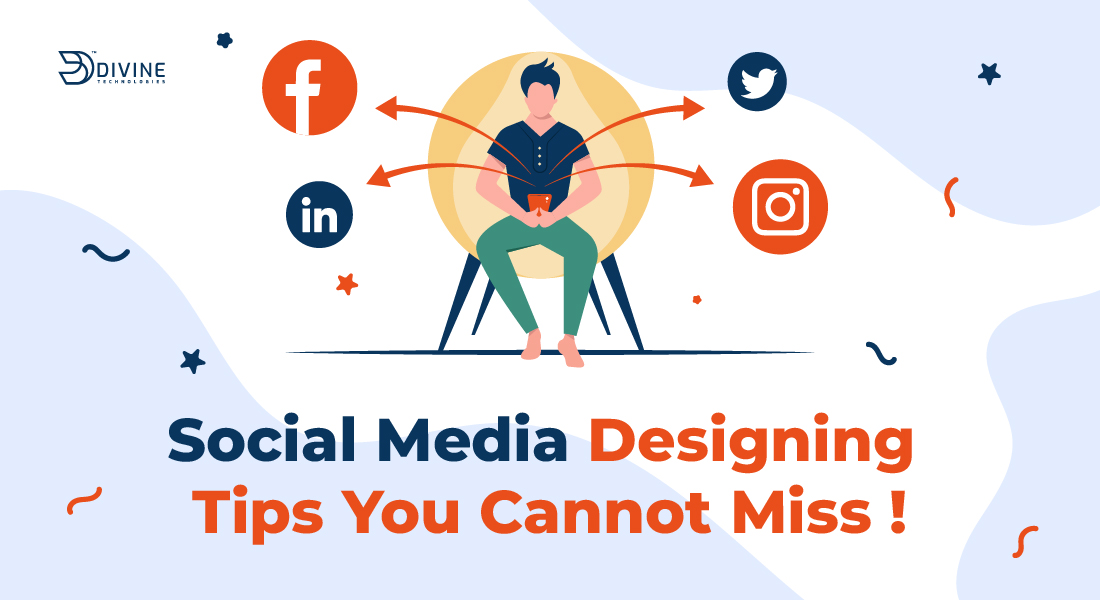 The digital marketing world is constantly evolving, and social networking posts are an ever-changing field. How businesses use digital marketing and social media to reach their audiences is becoming increasingly important, and as a result, new trends and techniques are emerging.
With the proper knowledge and tips, you can easily keep up and ensure your graphical elements are always ahead of the curve. From choosing the right visuals to creating engaging content and optimizing your campaigns, trending graphic features will help you get the most out of every post.
In this article, we'll discuss 2023 top tips for social platform posts that you will want to take advantage of. From understanding the user experience to the details of typography, you must know a range of tips. With this advice, you can take your social networking graphics to the next level in 2023.
1. Color Combination
Your social network posts must first capture people's attention, and choosing the proper color scheme is crucial. Avoid using colors in your postings that instantly turn off your audience and cause them to unfollow your brand on social media.
Each color conveys a message or an emotion. You must choose a shade that speaks to the character of your brand. For instance, use blue color for your Facebook cover design service if you have an IT business because blue represents intelligence. Similarly, you may exhibit your fun side using colors like orange or yellow. Whatever color you decide on, be careful not to overuse it since this might mislead your consumers about the perception and vision of your brand.
Here's a color combination of black and white as the base color representing classic post designs - 
 2. Font and Text
Utilizing the appropriate font and content is the next crucial step. Using the proper font may enhance your social media images and communicate effectively with your audience. You must maintain a balance between texts and graphics since visuals may combine both. The pictures' long and complicated language may appeal to something other than your target audience.
To properly communicate your message, it is best to choose a brief, clear text that can be placed in a picture. Most people engage with this material; therefore, it is likely to earn more social networking shares.
3. Graphic Element
Add the appropriate visual components to your postings as well. You could believe that elements like lines, graphics, motion, etc., are no longer fashionable, but that is untrue. Your social media design will appeal more to the public if you use these lines, shapes, images, and other elements. Also, remember to display using arrows, boxes, and various forms because they can be impactful too.
4. Brand Value
Concentrating on your brand's personality while creating a social platform's postings is crucial. Your social networking posts need to get registered with a brand narrative. To highlight the feelings associated with your brand, maintain a consistent color scheme, font, and formatting throughout your postings. It is to make it simple for consumers to recognize your brand by glancing at the articles. Additionally, you should always include the logo for your company in your posts.
5. Content
Different social network platforms have diverse audiences. Thus you must be familiar with every medium to provide material art appropriately. For instance, Instagram post design emphasizes visual media more than other platforms; therefore, you should provide your audience with visually attractive elements.
Similarly, some social platforms favor text and image-based material you must concentrate on. Like, LinkedIn provides more text-based business material.
6. Buyer Persona
A buyer persona survey is an essential and significant step. You will better understand your audience all because of this survey. You will learn more about them personally by learning about their typical days, the magazines they read, how they measure success, their worries, and aspirations, and, most crucially for your purposes, which social media platforms they use.
7. Analysis Tool
The digital world has evolved, and you can determine which social networks are worthwhile. Using specific social networking tools will stop, given that you are already active on several platforms. An analytical tool, Sprout Social, will enable you to choose which ones are worthwhile for you to continue using.
You can also check out Pew Research Center if that is different and you are new to social networking. According to these specific demographics, this tool will give you an idea about the channels your target audience utilizes. Every social networking platform has different specifications, needs, and sorts of photographs, among other things. You might have also heard all tales about carousel photos, profile photographs, etc.
8. Coherence
It is common to understand each individual has a diverse personality, and their decisions vary because everyone behaves in a particular way and holds specific beliefs and ideas. Thus, in identical circumstances, our conduct will be highly similar. Your social media profile needs to be personable. All of our brand profile elements now need to convey this personality. Post kinds, frequency, summary, hashtags, and other features should be designed according to your audience's preference.
9. Format
Social media images are raising the bar significantly. Assistance permits the integration of MP4 and GIF in addition to traditional visuals format JPG, JPEG, and PNG. Make your social platform visuals more dynamic and approaching. Make films or TGIF to use as your profile or cover photo above and beyond. You may now add an interactive element to your social network's marketing photos.
10. Balance
Although challenging to master, the art of balance in social network post creation is worth the effort. Imagine that each strategic component has a "weight behind it" since it is a beautiful approach to balance. 
Additionally, it's critical to remember that different components have varying degrees of importance; balance needs to be evenly distributed. There are four distinct balances -
Radial

Symmetrical

Asymmetrical

Crystallographic
11. Contrast
Have you ever heard the phrase "truly popped" used to describe an image or design? They can refer to an image's contrast. By differentiating the elements, the difference makes one stand out or pop more than the others. 
Enhancing your social platforms photographs with excellent contrast is a terrific idea. Your design runs the danger of seeming "flat" without comparison. However, too much difference makes your plan crowded, and nothing will stand out. So, contrast is another vital tip you must focus on to develop the best social networking graphics.
To Conclude,
This was your gathered collection of invaluable tips you should not miss. We are sure implementing our comprehensive tips will help you make your social media feed more attractive and engaging. 

Now that you know about this, are you thinking about who will compile them for you? Other professionals at The Divine Tech remain just a call away from helping you get the best graphical solution for all your social platforms. We will not only help you with tips but also recommend you the best for your feed. Get in touch with us, and let us help you right away!