How To Create A Social Media Banner That Gets Results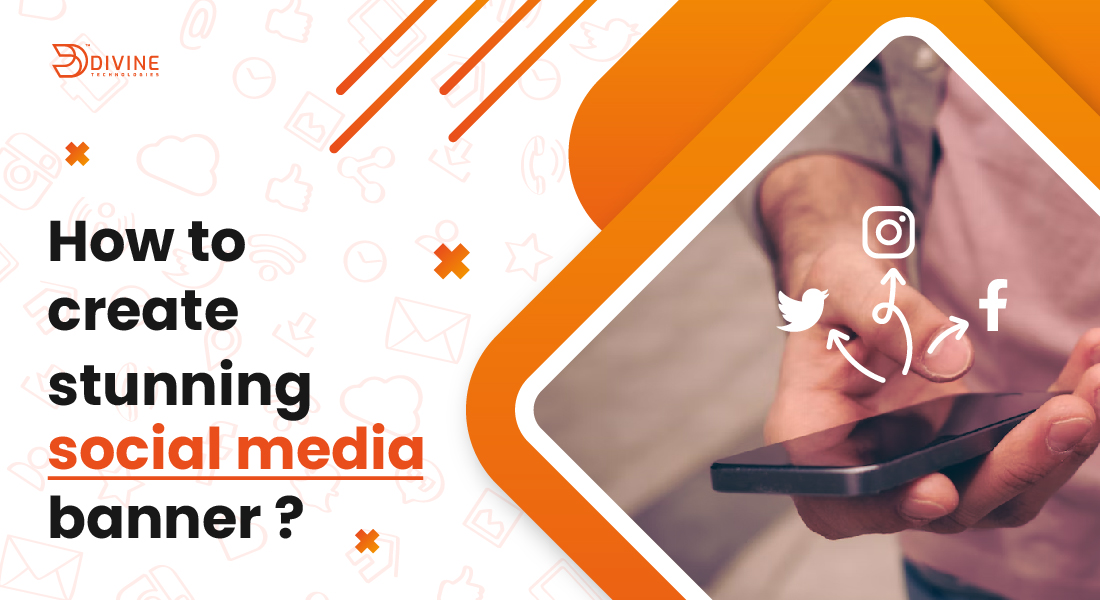 Today, social media is not just a trend; it's actually far more than that! Social media presence and marketing are crucial elements of online marketing, whether you own a small local shop in your area or the owner of a conglomerate.
It's an effective medium to reach a particular class of audience, build a community of like-minded people, engage with them, and promote your products/services to increase sales at the lowest cost. Additionally, it also assists one in easily building trust and authority for his brand.
Here, we can't ignore the fact that first impression always matters whatever you perform as a part of a marketing campaign, as how you represent your brand for the very first time lasts forever whether you go for online or offline marketing.
And social media banner designs play a huge role in defining your brand's first impression in front of your targeted crowd on social media, that's a significant realm of online marketing. Agree?
Today in this article, we will discuss six effective strategies for creating effective social media banners for all platforms. It will assist you in effectively representing your brand or business, procuring more engagement, and increasing conversion rates!
So, without any delay, let's get started.
Tips For Designing Stunning Social Media Banners to WOW Your Audience
#1 - Simplicity Always Wins
There is one saying, "Simplicity is the ultimate sophistication." It also applies while designing social media banners for any platform. It simply means don't mess up your social media banners including social media cover images like Facebook cover design with numerous texts, redundant images, and design elements.
The tumultuous social media banners will not be able to showcase the actual message you want to convey to your audience and instead show your brand's unprofessionalism. Remember that the less chaos your banners have, the more effective their impact will be!
Try to keep your banners as simple as they can be, using the least text with easy-to-read font style, font size, colours, and necessary visual elements. It will work tremendously for sure!
#2 – Quality Matters a Lot
As a social media design services provider, we know how much effort and time it takes to design a professional social media banner for each platform. From choosing the right size, fonts, colours, and design elements to giving a final touch, every step is crucial that speaks loudly in the final design.
However, one more hidden element can make or break your brand image, i.e., IMAGE QUALITY. Low-resolution and blurred images will be the reason for spoiling your brand identity, no matter how much effort you put into its design.
So, always focus on the quality of your image rather than quantity, as quality matters a lot!
#3 – Hire Professionals 
Nowadays, there are tons of pre-designed social media templates and free/paid software or tools available in the market that really helps you a lot to design the finest visuals in just a few clicks.
But don't you wonder why many conglomerates still hire graphic design companies despite having endless readymade templates, software,
or tools? The only answer is the real charm of customization always overhauls the ready-to-use designs.
If you're damn serious about your brand or business and want to grow it by hook or crook for a long time, we recommend you hire professional graphic designers which can assist you with customized Facebook, LinkedIn, Twitter, and the best Instagram post design.
#4 – Always Follow Trends; Don't Be Outdated!
Social media platforms keep changing as they're "full of people, for the people, and by the people." It's not a one-time change, but it's a constant one. So you must catch the current trend to ensure your brand is caught up!
Moreover, it's an art for a graphic designer to constantly monitor the current trends and implement the same quickly to be with the move! So, never overlook a single trend. Instead, keep studying the current market demand to make a brand stand out among your competitors.
#5 – Emphasize Relevancy
Relevancy is the most crucial segment of your social media marketing campaign; you should consider it while designing graphics for various social media platforms.
While building the authority and trustworthiness of your brand, relevant social media banner design plays a key role there! It's an effective tool for building a strong relationship between a brand and its customers.
It should reflect the current and long-term goals of your brand or business. Your slight negligence on the part of relevancy in your social media banners may lead to a drastic collapse of your brand identity!
For example, if your brand is in the clothing business, your social media designs should be related to the clothing industry. On the other hand, if you start showing something related to the food and beauty industry along with clothing, it will hamper your brand's reputation directly.
#6 – Creativity Blossoms
It's a universal fact that creativity and uniqueness always matter a lot to get more attention in any realm. However, it strongly relates especially to social media designs! The more creativity you put into your social media banner design, the more chances you have to get attention and engagement from your audience!
Publishing social media posts with no creativity won't let you get more engagement. First, accept that your audience is looking for excellent stuff, and you must come true to their taste. It's challenging, but it won't stop your brand from blossoming in every sphere once you are done.
Conclusion
That's all, folks! So, now you know how to create social media banners that bring the best results to your brand. Start designing your next banner; keeping the six tips mentioned above will surely let you outdo your competitors. Also, don't hesitate to hire the best graphic design company if you want to bring a professional touch to your social media presence.
We at TheDivineTech are here to give you the best graphic design services as per your industrial requirements. We are known for our best social media designs, which will undoubtedly highlight your brand among your competitors