How to Make a Good Business Card Design?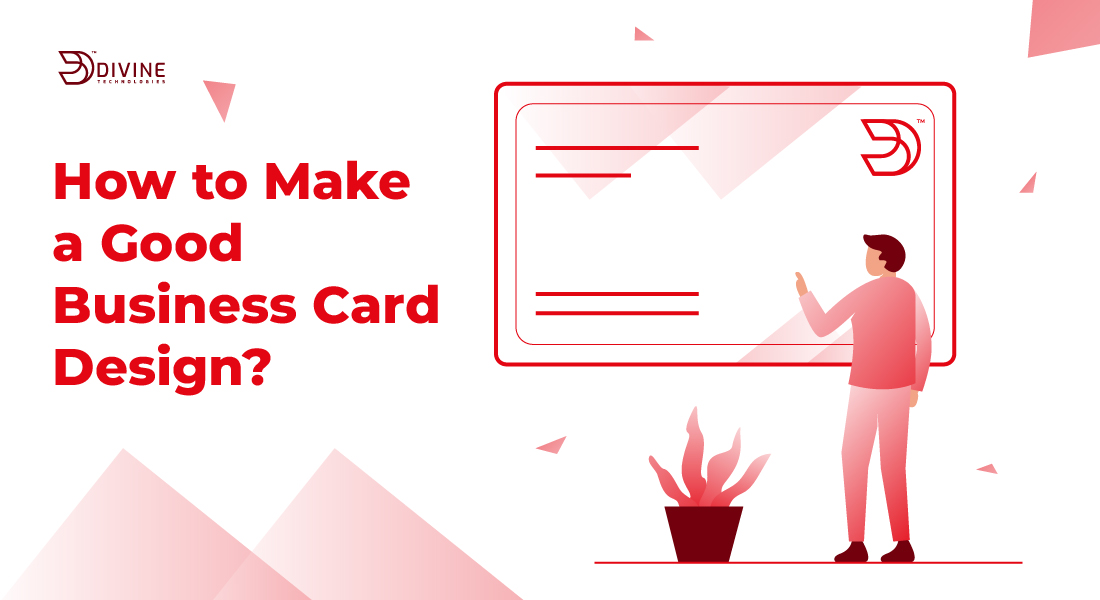 Brand cards are known to be an essential part of professional and social networking. They highly impact a brand and enable building relationships and finding new opportunities. But what about the real goal? Well, it's not just to get people to recognize you but to make an impact with your services or products.
The best plant cards contain various features that impact the recipient. Here we will discuss the most common features people use to make their brand or brand cards stand out from the rest, giving you a few great ideas of what to include in yours. Let's begin with -
1. Template
Your brand's business card design reflects a lot of information about your story, product, and service. To convey it accurately, you must ensure choosing visuals that land in your potential customer's mind without complexity. For example, an interior decorating brand's card will have a template that showcases symmetrical lines representing a clean look. Also, incorporating your brand's colors is the primary key to representing your business type. Here's an image of a web designer's brand card that has yellow, pink, and sea green as its brand colors -
2. Typeface
The typeface is the second significant element that you must consider. The experts recommend using your website's typeface for your card design. It should have a relevant appearance suiting your brand. Like, if you're an etiquette coach, try an elegant script, and if you are a writer, you can go for a typewriter-inspired font. Contrarily, critical information (like your brand name) should get placed in a special space, highlighted with commas.
3. Size and Shape
Size and orientation it's the third essential aspect needed to design a good card. The size and shape examine the number of details you can fit in your card. The more dynamic the design, the more information you can adjust and fit. Incorporating it with relevant visuals can help convey your brand message effectively.
Some of the popular shapes the professional designers at The Divine Tech use are horizontally stacked and rectangular while keeping size like that of a credit card. Also, if you need more clarification about suitable sizes and shapes, think about a square design with round edges or vertical orientation because that goes literally with every brand.
4. Information
Talking about the details of your card, ensure it has all the contact sources your potential customers can reach out to you whenever they want. To sum up, here are the contact details you must incorporate -
Business name

Mobile number

Website URL

E-mail address

Social media accounts
Remember to include the correct phone number so your potential customer can quickly get in touch without getting misled.
The layout of your brand card is a graphical point you need to consider because how you add your information will get impacted by the same. The details should look inter-connected, which seems engaging. The information should flow well together while it is easily identifiable from one another. The logo, followed by the name and additional details like addresses and mobile numbers, must flash on your brand card's visual flow from top to bottom.
5. Bigger Logo
According to corporate brochure design services professionals, your card will represent your contact details and showcase your entire brand. Your brand's logo and colors are significantly crucial graphical elements you must track while designing the final card. These components may sound mere, but they hold the maximum potential to influence other graphic elements. So, to make your visual branding stand out, considering your logo looks should be your goal.
You may designate your brand card's one side to your logo. Thinking why? Well, because a logo speaks a lot about a brand. As it gives an idea of who you are and what you do, showcasing it in a prominent spot might attract potential customers in one look.
6. White Space
Have you heard the phrase that says - "Sometimes, less can be more!" As a business owner, you may follow the same for your card. Your potential customer may get puzzled and uninterested. To avoid this, you can use your card's both sides and present details in a fresh manner. A little white space in a design makes it easy on the eyes and can assist in bringing attention to crucial aspects.
Additionally, you should include a remark before giving someone your brand card. You may add a colleague's name or your new phone number by leaving a small space for the same.
7. Special Element
Using distinctive finishes may help you make an excellent first impression on potential customers, partners, and prospects. The graphic designing experts see incorporating a trending element or brand-related feature as a simple step to making your card look different. Also, combine it with embossed glass, generating arrays, glossy covering, and giving your brand card an unforgettable 3D appearance.
Another approach to making your brand cards stand out is using paper for recycled craft paper gives off an organic vibe, while extra-thick report an immediate sense of luxury. Ensure these unique features fit your brand; for example, incorporating shimmering foil accents to your brand card makes it seem like you need to be put in a more glamorous industry.
8. CTA
Although it is not a must point to cover, a call-to-action can influence the potential customers to connect with the full stop and create a promotion around your company, whether a unique offer, a helpful hint, or a discount code, to energize customers.
Think about including a QR code in your call-to-action. Adding a QR code to your brand card is a terrific one-click approach to direct visitors to your website, sign them up for your mailing list, or offer them a special deal as people get accustomed to QR codes. The professionals recommend implementing the QR code on your brand card's backside, making it simple to scan.
9. Proofread
Nothing is more upsetting than opening a package of newly printed brand cards and discovering a mistake. Before placing your purchase order, have a friend or co-worker examine your business card once more for typos. Hire a copywriting professional if you want to avoid every single mistake and make your brand card flawless.
Wrapping Up,
What you expect from your brand card will ultimately determine what you include on the card. Make sure that it conveys your identity and brand, but avoid getting bogged down by the minutiae at the expense of your professional image. If you want your recipients to remember you, ensure that your business card leaves a good impression that could get recalled.
Our certified experts have years of experience helping clients with the right design ideas. If you want a perfect one for your brand, our team of experts will help you find one that is right for your needs. By bending your specifications with our expertise, we ensure your brand will have an awe-inspiring brand card. So, get in touch with our professionals soon